The department architecture, space and society deals with the complex networks and social relations of architecture as well as the methods of making visible its production and transformation processes in everyday life. In doing so, it is always a matter of challenging a rigid object-oriented thinking in architecture and making anonymous groups, such as the users of buildings, visible as individual space-creating actors.
Latest News
On Saturday, 7/16/2022, the KulturKiosk Stuttgart invites to the theme talk "Three scientists in conversation about architecture" starting at 7 pm. Sabine Hansmann and Sandra Meireis read from their books "Monospace & Multiverse" and "Micro-Utopias of Architecture", published in 2021, which deal in different ways with new forms of cohabitation. In the architectural-theoretical discourse formations to which they refer, aesthetic and political implications play just as important a role as the intertwining of technical and social aspects. Hansmann and Meireis discuss the intersection of their theories in a joint conversation and present them to the audience for discussion. Art historian Hannelore Paflik-Huber moderates the discussion evening. Both books are available as open access publications.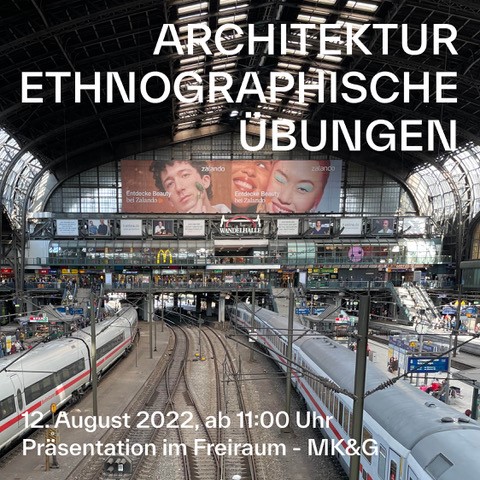 On Friday, 8/12/2022 from 11am to 5pm Sabine Hansmann invites to the presentation of the seminar Architectural Ethnographic Exercises in the open space of the MK&G. The students show elaborations of their ethnographic observations at the main train station. Specifically, practices of observing, mapping, drawing and sound recording and their respective ways of opening up places and situations were tested and reflected upon.
Research
HOOU project "Material Networks"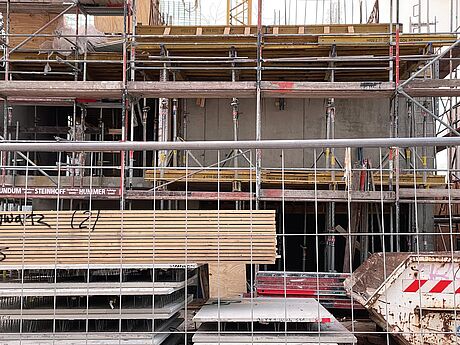 Especially in the past 60 years, a fundamental change has taken place in the relationship between humans and nature. Architecture has played a leading role in this. In Germany, the construction and maintenance of buildings causes about 40% of CO2 emissions, 52% of our waste and consumes 90% of the mineral, non-renewable resources in the production of building materials. The immense energy consumption and high CO2 emissions of buildings and non-recyclable construction waste, but also increasing social inequalities and societal cleavages require a fundamental change of mindset in construction and architecture. Following the enlightenment and also the tradition of modernity, we separate in our imagination humans and nature, nature and culture. But this categorical separation seems questionable when we consider the complex implications of humans and nature in times of the Anthropocene. As architects, we make nature with our everyday design decisions. All building activities have impacts locally, on the immediate neighborhood, as well as on the Earth system globally. While in many areas of our daily lives we are aware of our complicated relationships with, for example, the clothing industry in Bangladesh, we are less aware of the interconnectedness of our construction industry for instance in the wake of lime or sand mining. Yet in light of the climate crisis, such awareness is urgently needed in order to be able to take responsibility for our spatial planning activities.
Material Networks is an interdisciplinary research-based teaching project and online archive that playfully, politically, and with a precise fous uses small narratives that are researched according to scientific standards to trace and make visible our complex, mostly invisible socio-ecological entanglements in the everyday life of the things / materials / resources with which we build, and offers impulses for rethinking.
The open access resource provided on the Hamburg Open Online University, or "HOOU", serves as an information medium for students, teachers and practitioners in the field of architecture in particular and all planning disciplines in general - as well as for a broader, ecologically interested public. Due to the variety of the material stories, which give insights into our resource management and are also always telling from the lives of other people and species, the project will additionally offer a multitude of connecting points for a wide range of disciplines and fields of interest.
Project start: February 2022
HafenCity University Hamburg
Studio 3.111.2
Tel.: +49 (0)40 42827-5366
sabine.hansmann(at)hcu-hamburg.de
Consultation hours during the lecture period:
Wednesday 11-12 a.m.
(after registration via email)