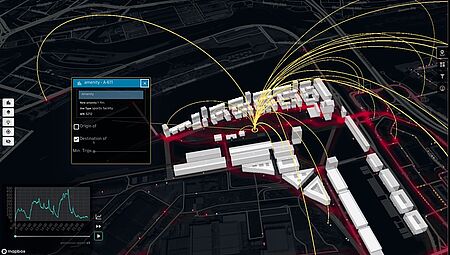 Digital City Science - Exploring Urban Systems
Digital City Science at HCU explores urban complexity with digital technologies. Our team develops scientific new approaches for the analysis and integrative planning of urban systems. For this purpose, the team comprises expertise in architectural design, urban and spatial planning, media technology, IT, and software development, among others. In cooperation with partners from academia, business, administration, and civil society, we develop data-based tools and methodologies that are applied in the national and international context. Our scientific activities span from fundamental research across applied projects to knowledge transfer in scientific teaching and training.
Research Focus
Convergence of sustainable and digital city research: In projects like "Sustainable Development of Urban Regions" or the Grasbrook City Scope we explore how two megatrends of current urban research – the digital transformation of cities and the demand for sustainable urban development – can be converged within a unified scientific framework.
Multi-layer Analysis of Urban Systems: In projects like Grasbrook City Scope (a cooperation with the MIT Media Lab) we investigate how multiple functional and physical layers of urban systems can be analysed and cross-connected, e.g. social activities, transportation and accessibility, noise emission, or stormwater runoff, or. The key instrument here is Agent-Based-Models.
Smart Quarter and Smart Building Data: In investigations on smart buildings and neighbourhoods in the context of the HafenCity and Kleiner Grasbrook urban development, as well as in teaching courses like "Data Café", we explore how data from the "internet of buildings" can be used for the purpose of intelligent urban development.
Integrated Urban Development worldwide: In international cooperations with the German Agency for International Cooperation (GIZ), among others, we search for new approaches how the rapid evolution of urban agglomerations and informal settlements especially in the Global South can be supported by open source tools like the "TOSCA Toolkit or Open and Sustainable City Planning and Analysis".
Seminars, Workshops, Teaching
Digital City Science online
The ECOMM2022 Conference on Sustainable Mobility

(June 2022)
MOVE21 and its sister initiative Scale-Up organized a session. Session theme was governance innovation for decarbonizing urban mobility and logistics; Scale-purpose Up's is to drive green and inclusive mobility development in European cities. The meeting was presided over by Lucian Zagan, Eurocities, who is involved in both initiatives. Jess López Baeza of MOVE21 finished the event by highlighting urban vitality and public space use in Altona, Hamburg, as a result of the smart placement of street-scale logistic hubs.
MOVE21 Site Visit: Hamburg

(May 2022)
HafenCity University, City of Hamburg, Altona District, and local stakeholders organized a 3 days event including site visits, study, networking, walking, and cycling, showing to the MOVE21: Zero-Emission 21st Century consortium the ambitious plans and ongoing initiatives in the Hamburg pilot.
TOSCA Begins in Palestine
(March 2022)
The Toolkit for Open and Sustainable City Planning and Analysis (TOSCA), developed under the Digital City Science, in cooperation with GIZ and local partners, begins a following development phase in the Palestinian regions. From March 2022 until January 2023, the HafenCity University Hamburg in cooperation with the Deutsche Gesellschaft für Internationale Zusammenarbeit (GIZ) GmbH, the Ministry of Local Governments and the An-Najah National University in Nablus, will be working together in the further development and implementation of the Toolkit for Open and Sustainable City Planning and Analysis (TOSCA), with the purpose of streamlining the housing development process and diminishing environmental impacts. The Toolkit serves as support for the realm of urban planning, in view of the dramatic population density increase and criticality of land availability in the region, especially in the peripheral areas outside of the Urban Master Plans.
Source of the Photo: International Art Academy of Palestine (Bloomberg.com)