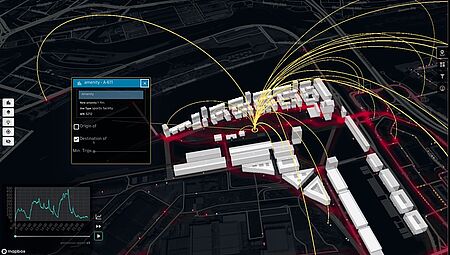 Digital City Science - Exploring Urban Systems
Digital City Science at HCU explores urban complexity with digital technologies. Our team develops scientific new approaches for the analysis and integrative planning of urban systems. For this purpose, the team comprises expertise in architectural design, urban and spatial planning, media technology, IT, and software development, among others. In cooperation with partners from academia, business, administration, and civil society, we develop data-based tools and methodologies that are applied in the national and international context. Our scientific activities span from fundamental research across applied projects to knowledge transfer in scientific teaching and training.
Research Focus
Convergence of sustainable and digital city research: In projects like "Sustainable Development of Urban Regions" or the Grasbrook City Scope we explore how two megatrends of current urban research – the digital transformation of cities and the demand for sustainable urban development – can be converged within a unified scientific framework.
Multi-layer Analysis of Urban Systems: In projects like Grasbrook City Scope (a cooperation with the MIT Media Lab) we investigate how multiple functional and physical layers of urban systems can be analysed and cross-connected, e.g. social activities, transportation and accessibility, noise emission, or stormwater runoff, or. The key instrument here is Agent-Based-Models.
Smart Quarter and Smart Building Data: In investigations on smart buildings and neighbourhoods in the context of the HafenCity and Kleiner Grasbrook urban development, as well as in teaching courses like "Data Café", we explore how data from the "internet of buildings" can be used for the purpose of intelligent urban development.
Integrated Urban Development worldwide: In international cooperations with the German Agency for International Cooperation (GIZ), among others, we search for new approaches how the rapid evolution of urban agglomerations and informal settlements especially in the Global South can be supported by open source tools like the "Open City Toolkit".
Current Projects
MICADO: Migrant Integration Cockpits & Dashboards
MICADO is part of the EU research programme Horizon 2020, the consortium consisting of 15 partners is coordinated by the Digital City Science at the HCU Hamburg. By using new technologies of data analysis and data integration on the one hand and easily accessible audio-visual interfaces on the other, MICADO will provide a technical solution to facilitate the arrival and participation processes. These solutions will be developed and tested in co-creative processes in cooperation with the target groups of migrants and new citizens, public administrations, CSOs, and civil society. They aim at supporting communication with and between local authorities and facilitate access to relevant information.
Sponsor: Europäische Kommission Horizon 2020
Partnesr: MICADO Consortium
Project Duration: 01.01.2019 – 30.06.2022
TOSCAToolkit for Open and Sustainable City Planning and Analysis
The Toolkit for open and sustainable city planning analysis is a cooperation with the Gesellschaft für Internationale Zusammenarbeit (GIZ) GmbH in India and Ecuador. Further partners are the municipal administrations in Ecuador and India, local tech companies, and universities.
Sponsor: Deutsche Gesellschaft für Internationale Zusammenarbeit (GIZ) GmbH / Partners: Deutsche Gesellschaft für Internationale Zusammenarbeit (GIZ) GmbH, municipal administrations in Ecuador and India, local tech companies and universities
Project Duration: October 2019 – March 2021
The Open City Toolkit – Video Tutorial on Vimeo
github - The Open City Toolkit
SURE - Sustainable Development of Urban Regions
SURE is a BMBF-funded, HCU-coordinated facilitation and synthesis research project carried out in cooperation with THL Lübeck and TÜV Rheinland Consulting. SURE operates a larger BMBF programme (nearly 150 institutions), in which 10 individual research and development projects focus on sustainable urbanism in South-East and East Asia, by supporting the projects in their scientific work, cross-sectional research, and finding cross-project synergies and transfer potentials.
Project Duration: 01.09.2020 – 30.08.2025
Sponsor: The Federal Ministry of Education and Research (BMBF) is funding this project within the framework of the Strategy "Research for Sustainability" (FONA) www.fona.de/en
Partners: Technische Hochschule Lübeck, TÜV Rheinland Consulting
Gracio: Grasbrook CityScope
Using methods and tools for digital urban research, the DCS develops an interactive city model for the district of Grasbrook in Hamburg. The model will be used to support planning and decision-making via the visualization of complex spatial and social contexts. It will simulate development scenarios based on important urban planning qualities such as mobility and accessibility, energy consumption, and air pollution.
Sponsor: HafenCity Hamburg GmbH
Project Duration: November 2018 - November 2020
MEDIFLY Medizinischer Luftfrachtdienst mit unbemannten Luftfahrzeugen / Urban Air Mobility (UAM)
The joint Project Medifly Hamburg researches the possibility of unmanned aircraft for the transport of medical goods and how they can be safely integrated into existing urban air traffic. In addition to the legal framework and technical setup, the project is investigating the opinion and support of citizens, with the DCS researching, evaluating and conducting participatory formats.
Lead: GLVI Gesellschaft für Luftverkehrsinformatik
Project Duration: 2021-2022
i-LUM Innovative Luftmobilität in Hamburg
The i-LUM joint project develops and evaluates the feasibility of innovative concepts and technologies for airborne urban mobility for the Hamburg Metropolitan Region in future scenarios (2040/2050). Within the project the DCS focuses on the planning, functioning, modeling and application scenarios of the ground-based infrastructure of the Vertiports.
Lead: Research Consortium of Hamburg Universities for Innovative Air Mobility in Hamburg
Coordinator: TU Hamburg, Prof. Gollnick
Project Duration: 2021-2023
MOVE 21
Multimodal hubs for zero-emission transport
EU Horizon 2020 project
Lead: City of Oslo
Project Duration: 2021-2024
Cooperation with the LIG Landesbetrieb Immobilienmanagement und Grundvermögen
Establishing experimental-explorative research and development projects, and creating new tools and methods for the visualization and analysis of urban data in the context of strategic land use and urban development.
Partner: Landesbetrieb Immobilienmanagement und Grundvermögen (LIG) /State Agency for Real Estate Development Hamburg
Project Duration: October 2019 – April 2021
ROMI Reallabor Offenes Modell für Interdisziplinäre Planung
Incentive Research at HCU
Lead: HCU Digital City Science
In cooperation with HCU Profs. Ballestrem, Bögle, Breckner, Mondino, Schiewe, Wildner
Project Duration: 2021-2023
Sharing City College
Joint PhD research into topics of participatory urban development
Coordinator: ahoi digital, Hamburg Universities´ department of Computer Science
Project Duration: 2021-2023
Cities4People Urban Living Labs for Mobility
Towards people-oriented transport and mobility
EU Horizon 2020 project
Coordinator: Copenhagen Business School
Project Duration: 2019-2021