Geodesy and Geoinformatics, as the science of recording, administering, analysing and presenting geospatial data and processes, deals with the structures of our living spaces and economic areas. In this connection, it covers an area ranging from geoscience to engineering and social sciences culminating in the environmental sciences, land management and spatial planning. We are involved in the planning of sustainable land use systems and the recording and visualisation of the constantly changing built and as yet unbuilt environment.
Geodesy and Geoinformatics stands for a modern form of surveying, which also covers the areas of photogrammetry, metrology, navigation, geographical information systems as well as geographical visualisation. The diverse tasks are accomplished using highly developed technological measurement systems and methods. The geomatics degree course at the HCU offers, for this purpose, a sound qualification in information technology as well as natural and engineering sciences, while simultaneously encouraging a more transdisciplinary way of thinking as well as the ability to work in an interdisciplinary team in order to be able to respond to planning, land policy and current environmentally relevant questions in co-operation with other disciplines.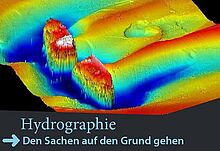 Our courses have received accreditation from the german Accreditation Board ASIIN, providing an independent seal of quality in study and teaching. The specialisation in Hydrography presents a distinctive feature, unique in Germany: the programme has been internationally certified as category A programme (the highest level) by the FIG/IHO/ICA International Board on Standard of Competence for Hydrographic Surveyors and Nautical Cartographers.