Unique in Europe:
A connection between theory, practice and project-orientated working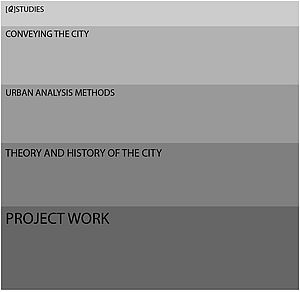 The "Metropolitan Culture" programme is a full degree course of six semesters. Each one combines several different modules, in which all the relevant subjects are organized. There are no subsidiary subjects or additional main subjects. Teaching takes the form of projects, seminars, exercises, lectures and reading groups.
In the first two semesters, the focus is on the mediation of basic theoretical, methodological and technical principles. The subject matter taught contains cultural and perception theories, the history of the metropolis and methods of urban analysis. The students learn to investigate urban cultures using methods from the fields of ethnography, philosophy and sociology. Artistic practices from applied cultural theory are presented and design-related elements such as graphics, sound and editing programmes are taught.
In the third and fourth semester public relations issues and the quality of content communication are the focal points. The basic principles learned in the first year of the programme are expanded on and supplemented with further subject areas. Students acquire management skills and media literacy, as well as funding and budgeting knowledge. They learn to reflect critically on societal trends and cultural processes and to question them.
The last year of the programme is targeted towards individualistic and autonomous work. In the fifth semester, students decide whether they want to try out their practical skills in a work placement, or whether they would prefer to build on their knowledge using an analytical, academic approach in a subject of their choice. The sixth semester is devoted to the final thesis, where the knowledge acquired is linked creatively and independently with relevant urban issues, and new findings and information on present-day cultures are explored.